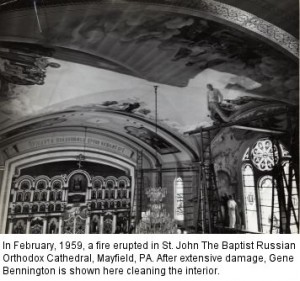 The Bennington family has provided church restoration services to all religious denominations for 75 years. In 1940, Gene Bennington began working with his uncle as a steeplejack. He loved his work and had a natural talent for it, a talent he passed on to his son Barry Sr. and his grandson Barry Jr. The Benningtons have restored interiors and exteriors of many churches throughout their home state of Pennsylvania as well as in New Jersey and New York.
Gene was an interior artist and church painter. His work was widely known in stenciling, faux finishing, wood refinishing, and gold leafing. Over his long career, he worked with some of the finest iconographers and interior designers of the time. What he learned from has been passed from father to son across three generations.
Barry Sr. took over the family business in 1973 and expanded it to include exterior restoration of churches. He specialized in stained glass windows, masonry preservation, sheet metal work, and high performance coatings. Even with the addition of church exterior work, he kept the quality workmanship in the interiors until his untimely death in 1990.
Bennington & Son offers a wide range of services including complete interior and exterior restorations, new steeples, carpentry, and windows. Barry Sr.'s son and partner, Barry Jr., has further expanded the family business by incorporating the latest technologies and adding general contracting jobs to the list of services.
After nearly 7 decades, the Bennington name continues to be synonymous with the highest quality workmanship.